The Philippine Government's Social Security System has put up a system enabling online inquiry for your SSS account contributions in SSS.gov.ph website. If you're currently employed, self-employed, ofw, a voluntary member, a non-working spouse, a household help or an overseas contract worker, you can actually avail these SSS membership account services. You can also download forms for use in many loans and membership applications ( r1-A , r1, r3, r5, e1 , e4, mat-2, ow-1 isl-101, ml-1 ).
For new members and those already registered SSS members. Check out the details on how to access your accounts, contributions, loans, pension, or any inquiry in the SSS website SSS.Gov.PH that can be seen below.
——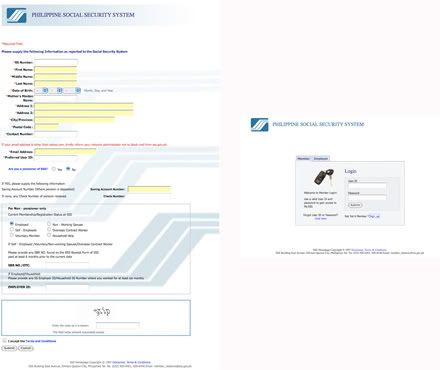 If you are having problems accessing the system online, you can use your mobile or cell phone thru text messaging or SMS.
This Text Messaging service allows members to inquire about their contributions , salary loan payment or even loan balances. It has a text fee of P2.50 available for Globe, Smart and Talk 'N' Text subscribers only.
Related Posts :
GSIS Website GSIS.gov.ph Online & Office Inquiry : Umid eCard Loans & Member Accounts Contributions
SSS Account Contributions – TxT SMS Inquiry
Details on How to Check Your SSS Account Online
UFC 102 Watch it live in streaming online video
Account Executive (Singapore)