ABS-CBN's Precious Hearts Romance "The Bud Brothers" is will surely top the Hapontastic timeslot this coming May 4. The story is actually based on the Bud Brothers Series, that has eight best selling novels written by Rose Tan , a Filipino.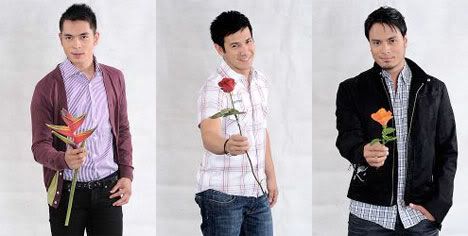 The cast will include Jake Cuenca as Vince Banaag, Rafael Rosell as Wayne Alban, Will Devaughn as Monty Geronimo, John Prats as Carlo Domingo, Joem Bascon as Pete Labrador, Manuel Chua as Dr. Ed Lacson, Guji Lorenzana as Rei Arambulo and Ahron Villena as Pio Andong Jr.
The cast include female stars like Cristine Reyes, Roxanne Guinoo, Mariel Rodriguez, Valerie Concepcion, Wendy Valdez, Janna Dominguez, Maricar Reyes, Denise Laurel and also Camille Prats.
Bud Brothers is directed by Laurenti Dyogi.
See Updates on Bud Brothers Series :
Bud Brothers Book 4 : "Tail You Lose, Head You're Mine"
Bud Brothers Book 3 : "Red Roses For A Blue Lady"
Classifieds :
100 Vacancies for Call Center Jobs
See the Latest on Apple's iPhone and Nokia Mobiles
Related Posts :
Precious Hearts Romance's "Bud Brother's" Presents Manuel Chua and Valerie Concepcion
Joem Bascon And Janna Dominguez: Bud Brothers give us "Tail You Lose, Head You're Mine"
Precious Heart Romances – Midnight Phantom
Maricar Reyes stars in Gaano Kita Kamahal – in Your Song of ABS-CBN
Brothers Burger GC Giveaway Promo 2014